A good decade ago, when looking for a plant-based meal in public catering establishments, it was not uncommon for the place to offer only salads or dishes from which some ingredients of animal origin were removed. Today, at least in big cities, the situation is completely different - more and more cafes understand the importance of offering such dishes. In major cities, cafes offer vegan bagels, falafels, kebabs, stews, goulash, sushi, steaks, cakes, donuts and a variety of other plant-based foods. 
Cafes prepare plant-based dishes not only for vegans
Although, according to various public surveys, there is no significant increase in the number of vegans and vegetarians in Lithuania, more and more people are trying to reduce meat consumption. Concerned about their health, environmental protection or animal welfare, consumers start looking for alternatives that are similar in taste, texture or other characteristics to their favorite dishes, but whose composition is closer to their beliefs or changing lifestyle.
According to the organization "Living Can" ongoing campaigns "here you can" representatives, many cafes currently offer exceptional, tasty and filling plant-based dishes, so the bar has been raised and it may be difficult for public catering establishments to "get away" with just one dish. Restaurant patrons want a more interesting experience and the ability to choose from multiple plant-based dishes that best suit their needs at the time.
There is great diversity in Lithuania
So far, there are only a few places in Lithuania that supply only plant-based food, and they are all located in the two largest cities of the country - Vilnius and Kaunas. Vilnius is proud of four cafes located in five locations. These are "Rosehip" serving a wide range of dishes, "Cvi parkas" which surprises with its Israeli cuisine, "Sultene" which prepares daily lunches and food for events, and "Vieta" which recently changed from vegetarian to vegan and offers a different daily lunch every time. In Kaunas, you can visit "Vilties vaistinės Arbatina", which has been operating for decades, and "Ridikas", located near the railway station.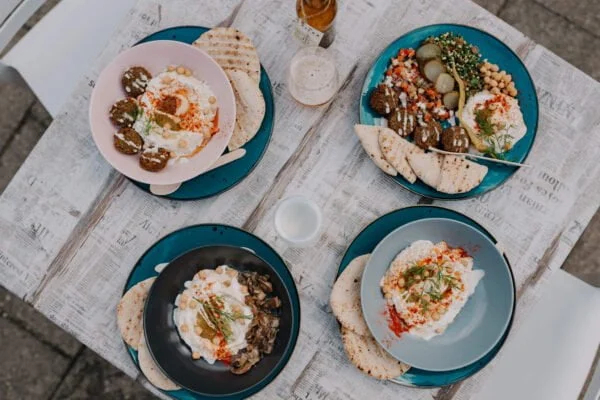 Campaigns "here you can", which unites restaurants that offer plant-based dishes on their menu, say that you don't have to go to a plant-only cafe to enjoy such dishes. Among the members of the campaign are 21 cafes, of which only 5 are vegan, and all others have a wide selection of plant-based dishes.
Pirmas blynas offers vegetarian pancakes, Doda offers burgers and kebabs, Mamma Pizza offers pizzas, Chaika offers sandwiches, cakes and cupcakes, and Blue Lotus offers Indian dishes. And this is only a part of all cafes serving different food, and the number of campaign members is constantly growing. For people who want to reduce their meat consumption or are simply looking for new taste experiences, there is really a lot to choose from.
And what to do while traveling?
As the number of travelers increases again after the pandemic, it is good to know that even when traveling, you can conveniently find all places that supply plant-based food in one application. Active in more than 180 countries, the HappyCow app with an integrated interactive map provides information about restaurants (cuisine description, contact details, opening hours, etc.) and a visitor feedback section.
According to HappyCow, there are as many as 3,337 all-vegetarian restaurants in Europe! The United Kingdom has the most of them, with a total of 756. The leading countries are also Germany with 448 plant sites and Spain with 293.
It seems that the number of cafes offering such food is growing both in Lithuania and in the world. The availability of plant-based foods has never been greater, and there is no sign of slowing down this accelerating trend.